Resources on TPT are licensed for individual use. Individual Licenses are non-transferable and may not be used by or reallocated to a different educator. Your license doesn't cover use by another friend or colleague.
If you want to share a resource for others to use, you can buy additional licenses. On TPT, additional licenses are often priced at a discount. Discounts are set by the Seller, but the default discount is 10% off the original list price.
If you know that you'll need more than one license when you're purchasing, you can select the number of teachers that will be using the resource on the product page before adding to your cart. You can also adjust the license amount from your cart before you check out.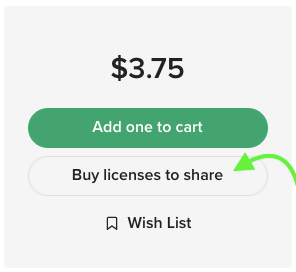 If you've already made your purchase, you can still purchase additional licenses anytime from your My Purchases Page — you'll see a "Buy More Licenses" button next to each resource you've purchased.