Additional licenses are necessary when more than one teacher or "user" will be using the resource. For example if you want to buy a copy for your co-teacher, a colleague, or a friend — you'll need one license for each person who will use it. The first license is sold at full price, and each additional license is typically discounted (usually around 10% off).
You can purchase additional licenses of a resource in a few different ways:
From the resource page — If you already know that you need more than one license of a resource while you're shopping, you can add the number of licenses you need directly from the resource page. Rather than clicking "Add one to cart," use the "Buy licenses to share" button.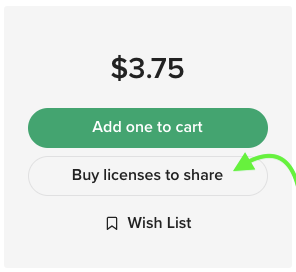 From your cart — You can also adjust the number of licenses you want to purchase for each resource in your cart before you checkout.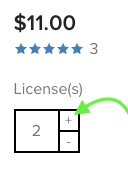 After you purchase — You can even come back and purchase additional licenses after you make a purchase. Next to each resource in your My Purchases list, you'll see a "Buy More Licenses" option (as long as that resource is still available from the Seller).